The New 2021 Kia Stinger
2021 Kia Stinger Highlights
The 2021 Kia Stinger got a complete make-over this year, including the exterior, interior, under the hood, and the technology and safety features were all upgraded, which makes this mid-size luxury sedan even more sought after.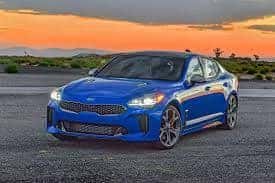 New Features
Several new features in the 2021 Kia Stinger make this car more impressive than ever before. All you need to do is download the Kia app.
UVO Link: The UVO ('Your Voice') link connects to your smartphone. It provides you with security, convenience, navigation, and peace of mind.
Security
Unlock & Lock – Did you forget to lock or need to unlock your Stinger's door from several miles away. Pull it up on your smartphone and lock it or unlock it and enjoy the rest of your day/evening.
Rear Occupant Alert – The car is equipped with sensors that alert you if any movement is detected after you have shut the doors; this prevents you from forgetting that man's best friend is still in the car.
Find my Car – This is an excellent feature after a long day at the amusement park or holiday shopping, and you can't remember where you parked. Pull up the location tracker on your phone, and UVO will show you exactly where you parked your car.
Navigation
Navigational & Multimedia Updates – UVO automatically updates all navigational tools and maps plus all your multimedia, so you always remain up to date.
Connected Routing – This new navigational feature delivers accuracy, timeliness, and efficiency by delivering better routing, real-time traffic, and arrival times.
Convenience
Home-to-Car – UVO and Alexa work together so you can use voice commands to lock and unlock the doors, adjust the climate, and a lot more.
Connected Profiles – Have more than one vehicle? UVO can sync your profiles so you can share the settings. You can also view and change the settings while in one car for another car.
Remote Climate Control – Before you head out, turn on the heat or air condition so when you get in the car, it is a nice comfortable temperature.
Infotainment System
The 2021 Kia Stinger's infotainment system provides you with all your multimedia options on a screen built into your dashboard. Plus, push-button and remote start.
Smartphone connectivity with Android Auto™ and Apple CarPlay®.
10.25-inch touchscreen display screen
Voice-controlled commands
Streaming music
Phone
Text messages
Weather alerts
Wireless phone charger
Safety Features
Safety features have come a long way over the past decade, thanks to technology. Most safety features available today come standard on all vehicles. If there is a safety feature that is not included, you can add it or get an entire safety feature upgrade.
The 2021Kia Stinger offers the following safety features.
Surround View Monitor – Four cameras allow the driver to see entirely around the car.
Lane Keep Assist – If your car gets too close to the lane markers, the vehicle will be gently steered back into the center of your lane.
Low Beam Assist – The technology tracks the angle of your steering and speed to help improve directional lighting.
Blind Spot Warning Blind View Monitor – Alerts you of cars in your blind spot. Blind view streams a camera in your blind spot when you signal to change lanes or turn so you can see for yourself what is or isn't in your blind spot.
Smart Cruise Control with Stop and Go – Sensors judge your speed and the car in front of your car's speed and maintain a safe predetermined distance between your car and the one in front of you.
Forward Collision-Avoidance Assistance – If the sensors detect a vehicle, person, cyclist, or any other object in your path, it alerts you. If you do not apply the brakes, the automatic emergency braking system kicks in and slows, and stops your car.
Rear Cross-Traffic Collision-Avoidance – If you're backing up and the car's sensors detect a vehicle or other object, it alerts you to a possible collision. If the driver doesn't apply the brakes, the system does stopping your car.
Automatic High Beams – When oncoming traffic is detected, your high beams are turned off and turned back on after the vehicle has passed.
The 2021 Kia Stinger is loaded with technology, features, and safety features to keep you and your family safe while out on the highway.