Benefits of Servicing your Vehicle at a Dealership
Finding the right place to service your vehicle is important. You want a top team that can provide expert service for your car, truck or SUV. That's why you'll want to choose a dealership service center over an independent garage. At a dealership service center, you will experience a number of advantages that other garages simply can not match. Greenway Kia of Franklin presents this look at seven top ways a dealership service center offers you and your vehicle a higher level of service.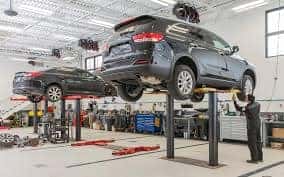 1). Certified technicians 
A service center is only as good as the technicians who work on your vehicle. At Franklin Kia, we have a top team of certified technicians who know your Kia inside and out. In addition to be qualified to handle all service and repair on your vehicle, Kia technicians also receive ongoing education to ensure that they can provide your vehicle with top service each and every time. At our service center, our Kia technicians can perform the follow repair and services:
General Automotive Repair
Regular Scheduled Maintenance
Oil Changes and Oil Filter Changes
A/C and Heater Repair
Brake Service and Repair
Exhaust Service and Repair
Transmission Service and Repair
2). State-of-the-art equipment 
You want to make sure that your service center of choice has top equipment that can quickly diagnose and repair your vehicle. At Franklin Kia, we have the most advanced equipment that most independent service centers can not match. This advanced equipment will tend to lead to quicker service and repair times. This can help get your vehicle work completed faster and get you back on the road.
3). Dealerships offer OEM parts 
You don't want just any part for your vehicle. At a dealership service center, you can get OEM parts for your vehicle's service and repair work. OEM parts are designed to be exact duplicates of your vehicle's original parts and equipment. OEM parts also come with a lifetime guarantee. When it comes to critical parts such as brake pads and gaskets, you don't want to take chances with aftermarket parts that were not specifically designed for your vehicle. OEM parts will give you peace of mind.
3). High customer service standards
Dealership service centers are usually held to a high standard when it comes to treating you the right way. Compare that to an independent garage which may not have any standards when it comes to customer service. You can be sure that a dealership service center will give you the highest level of customer service during each visit.
5). Free work is provided under warranty 
When your need to have warranty work on your vehicle, a dealership service center will be able to complete the job free of charge. Some independent garages will tend to charge you for warranty work. Beyond that, repairs at a dealership service center will not voice your vehicle's warranty. That may not always be the case at an independent garage.
6). Guarantees on work 
All work at a dealership service center is guaranteed. That means that you can be sure that a dealership service center will "make things right" if the vehicle is not repair properly the first time. At an independent garage, your vehicle repair work will not be guaranteed. Therefore, you will want to rely on a dealership service center for the peace of mind that comes with a 100% guarantee on all repair work.
7). Special alerts on recalls 
Finally, a dealership service center will be able to provide you with the latest special alerts and recall information regarding your vehicle. An independent garage may not be able to provide you with such information. This can ensure that you have the latest information on your vehicle.
Have you vehicle service by a top dealership in Nashville, TN
Get top service for your Kia at Greenway Kia of Franklin. We are the dealership service center of choice for drivers in the Nashville, TN area. Whether your vehicle needs routine service or complex repairs, we have the certified Kia technicians and the state-of-the-art service center to get the job done. Not only that, we are also open six days a week to provide you with top service when you need it most. Be sure to call or schedule your appointment online. Our Kia service center team looks forwarding to providing your vehicle with top service today.