A Glance at the New 2021 Kia Sorento
The mid-size SUV continues to be one of the most popular models of vehicles on the road today. When you are in the market for a new mid-size SUV, you should consider the Kia Sorento, which has been produced and sold by Kia for nearly 20 years. The 2021 Kia Sorento is expected to be one of the most popular vehicles in its class due to the variety of new features as well as continued reputation to be a safe and fun vehicle to drive.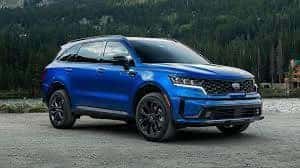 What's New with the 2021 Kia Sorento
If you are looking for a SUV that has new features, the 2021 Sorento is a great option to consider. For the 2021 model year, the Sorento has been completely redesigned. This includes incorporating a variety of improvements to the interior and exterior of the SUV, which are continuing to be popular with drivers. Some noteworthy additions to the 2021 Sorento are as follows:
Smartphone integration with either Apple CarPlay or Android Auto
New Bluetooth and smartphone wireless and hands-free connectivity, which offers you great control over the interior functions of the vehicle.
Folding second row seats with one-touch slide, which makes it easy and efficient to change the interior layout of the vehicle depending on passengers and cargo needs.
Safety Features and Ratings
When it comes to an SUV, having one that has a reputation for safety is often among the top priority for buyers. Those that choose to purchase the 2021 Sorento will be impressed with the strong safety reputation. Part of the reason that it has a good reputation for safety is the range of features that are included. Some of these features include the following:
Blind spot monitoring along with accident avoidance assist.
Rear cross-traffic alert.
Safe exit assist
Rearview camera
Forward collision warning and pedestrian detection.
All of these advanced safety features can help aid a driver in challenging driving conditions, which helps to make it a safe SUV for anyone to drive.
Performance and Powertrain
If you are looking for an SUV, the performance and powertrain will be important. The 2021 Sorento has two engine options to consider. These engines can be paired with either all-wheel or front-wheel drive and come equipped with an eight-speed auto transmission:
Base engine is a four-cylinder and 2.5-liter engine that will provide around 191 horsepower and over 180 pound-feet of torque. This engine is comparable to other midsize SUVs in the same class. Blended fuel efficiency with this engine option is around 27 MPG with front-wheel drive and 26 MPG with all-wheel drive.
Upgraded turbocharged four-cylinder engine provides an impressive 280 horsepower and more than 310 pound-feet of torque, which is strong compared to other SUVs in the same class. When paired with AWD, you can expect to receive fuel efficiency of 25 MPG on a blended basis. With front-wheel drive, you can expect to receive blended fuel efficiency of 24 MPG.
Interior Features
The interior features of the 2021 Sorento will impress most drivers. The SUV can seat up to seven passengers with its three-row layout and design. While it comes with cloth upholstery, higher trims come with leather and other luxury features including heated and ventilated seats, a heated steering wheel and power-adjustable seats.
The 2021 Sorento also has ample interior technology features that can make it fun to drive. Some of the standard features that you will receive include:
A large 8-inch touchscreen that is used to control the infotainment system.
Bluetooth
Various USB ports
Smartphone integration with Apple CarPlay or Android Auto
Additional features that are included with upgraded trims include the following:
A 10-inch touchscreen display
Navigation
An enhanced Bose audio system
Wi-Fi hotspot
The 2021 Kia Sorento clearly provides a variety of benefits that those that choose to purchase one. If you are interested in learning more about all the new features and benefits that come with owning a Sorento, you should come to Kia of Franklin today. When you come here, you can speak with a professional that can answer all of your questions about the Sorento and also set you up with a test drive today.